Dr. Linda Myers
Over the last twenty years, Global Partner, Dr. Linda Myers has collaborated with Fortune 100 companies in leadership and consulting roles across multiple industries including pharmaceutical, biotech, healthcare, telecommunications, IT, engineering and industrial systems, financial and insurance, energy, and professional services. She is a recognized trail blazer for being the first incumbent in each of the roles she has served. Linda delivers measurable strategic enterprise-wide business performance improvements in cross-cultural settings across multiple geographies by optimizing skill, process, policy, and cost advantages.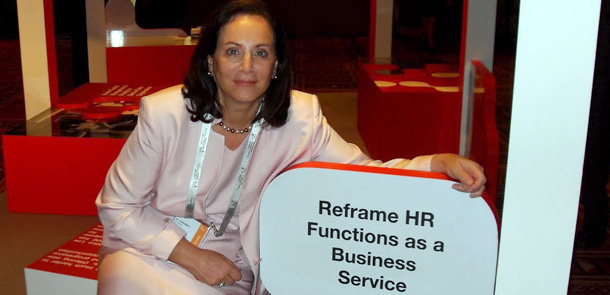 The breadth of her capabilities support individual, small scale projects, and enterprise wide organization undertakings through collaborative and data driven strategic planning skills, change leadership and communications, learning and development, organization development and structure redesign. By directly engaging executive, managers, supervisors, and customer facing employees, all of whom drive and are in turn, affected by organizational changes, Dr. Myers supports the alignment of human capital with business strategy to reduce risk and costs while improving competitive performance. Linda engages others to enable them to feel that they are an integral part of the process, and as appropriate, confers ownership and accountability for their contribution to successful outcomes. It's not just about numbers; it's about the devotion to self, team, group, and organization that enables people to reach the numbers.
Early Global Drivers
For Linda, global, cross culture, and passion are inseparable. While most of us are aware of the vast cultural diversity that exists across our globe, Linda became the first member of a bicultural family of two adults who were both unable to hear; one born in Europe. Before globalization became a household word, Linda was selected as a preteenager to represent the United States at a Youth International Summer Village hosted by the Norwegian government. Ten countries sent delegations of four. The local US interviewer was then Columbia law professor Ruth Bader Ginsburg, who today sits on the Supreme Court. Consequently, Dr. Myers' early and direct experience supporting cross cultural diversity well before beginning her formal career is a value added capability she bring to your business.
Global Education, Work, Travel
Over the next 20 years, Linda spent her junior year of college in the UK, worked in South America and Europe and complemented this work with travel to all 7 continents (Africa, Antarctica, Asia, Australia, Europe, North America, and South America).
Former President Richard Nixon's visit to China made him the first US leader to visit the Peoples Republic of China, which opened the diplomatic doors between the two countries. Between 1986 and 1994 Linda partnered with the China Human Resources Group, a consulting firm dedicated to supporting US multinationals establish joint business ventures with Chinese state owned operations. Her contribution included marketing, training, compensation surveys, and building a candidate database. Some of CHRG clients included Abbott, Baxter, Johnson & Johnson, Pfizer, and SmithKline Beckman.
Linda earned her doctorate in Administration, Planning, and Policy from Harvard University in 1994 blending studies in the Schools of Education and Business. Her thesis evaluated the business strategy and key success factors of the first global pharmaceutical merger between SmithKline (Philadelphia) and Beecham (London), specifically, the key drivers for the strategic alliance and the vision that guided decision-making, leadership communication and behavior, management selection and performance, and finally culture realignment and organizational learning.
Her contributions to the pharmaceutical industry both internally as an employee, and externally as a consultant include Abbott, AstraZeneca, Baxter, Bristol-Myers Squibb, Pfizer, and Wyeth. She has also been a Change Management Consultant with Price Waterhouse and the head of Human Resources for a global healthcare affiliate of Johns Hopkins.
Certifications and Global OD Collaboration
After earning her credentials and certifications in domestic (SPHR) and global human resources (GPHR), over time, Linda contributed the equivalent of two years of pro bono effort to two global professional undertakings. With the first, she participated with the team of Society for Human Resources Management professionals that develops questions for future global professional human resource (GPHR) certification examinations. With the second, she served as an Associate Editor of the one-time only 3 volume special global edition of the OD Practitioner, Dr. Myers collaborated with a team of over 100 internal practitioners to produce a three volume set of first person business case studies which illustrate value Organization Development strategies bring to support business transformation and success. An Organization Development practitioner is to an organization what a physician is to a human body. The practitioner "diagnoses" and prioritizes the issues within an organization that prevents it from reaching its objectives or that is causing a damaging level of turnover, suggests a change-management plan, and then guides the organization through the necessary change.
These three volumes represent over a million hours of shared pro bono work completed by devoted external practitioners and internal organization development practitioners in their collaborative mission to share the insights of global best practitioners around the globe.
Participating organizations:
Akzo Nobel (The Netherlands)
Alstom Holdings (France)
ANZ Bank Group (Australia)
AOL (Canada)
AT&T (Singapore, USA)
Beijing United Family Hospitals and Clinics (China)
British Petroleum (UK)
Cargill (UK)
Cathay Pacific (Hong Kong)
Cognos Ltd (Australia)
Credit Suisse (Switzerland)
Four Seasons Hotels and Resorts (Canada)
Gemtek Technology (Taiwan)
HBSC Bank
Hoffman La Roche (Switzerland)
IBM (Australia)
Infosys (India)

Johnson & Johnson

– Cilag GmbH International (Switzerland)

– JJMP (Canada)

– Consumer Companies (Latin America)

– J&J Medical (Australia)

– J&J Medical (Austria)

– J&J Medical (Asia Pacific Region)

– Janssen Cilag (Greece)

– Janssen Pharmaceutica (Belgium)

– Janssen Pharmaceutica (Taiwan)

– J&J Professional Products (Portugal)

– Xian-Janssen Pharmaceuticals (China)

Kellogg (Latin America)

Masterfoods Europe (UK)

MetLife (Mexico)

Motorola (Germany)

Norske Skog Pan Asia Co. (Singapore)

Philips (The Netherlands)

Qualcomm (UK)

Rolls-Royce (UK)

Sanofi-Aventis

Sasol (South Africa)

Sony

Standard Chartered Bank (UK)

Standard & Poor's (UK)

TAL Apparel Limited (Thailand)

Textron (Singapore)

United Arab Shipping Agency (Kuwait)

US Army (Iraq)

VISA International (Latin America)

Vitro (Mexico)

.

.

.
Linda has presented to Fortune 500 recruiters on the challenges of global recruiting, and as a keynote speaker at an R&D Knowledge Management conference, presented "Life or Death Leadership: Executive Survival Secrets from Antarctica." She has also presented to professional organizations and to MBA candidates in business schools around the globe.
In 2007 Dr. Myers began a relationship with SK Group and worked in Asia as the first foreign female executive to serve at the executive level in South Korea as Vice President and Head of Global Talent Management. She and her team extended branding for SK Group beyond Asia for the first time in Europe and the US, elevated global exposure with its first career portal, and established a sustainable talent management strategy and measurement system to enable this organization to continue striving for the globalization it seeks. For Linda, refining her cross cultural skills continues to be a lifelong goal.
Affiliated with many global organizations including the National Foreign Trade Association and Global Forum, an organization of practitioners and consultants around the world, Linda has built a team that brings diverse global skills to every challenge. By using this skills advantage through these and other networks, WorldWisePartners enables swift review and mobilization of solutions that meet your needs when, where, and how you need them.